DMC - Fall 2021 Webinar Series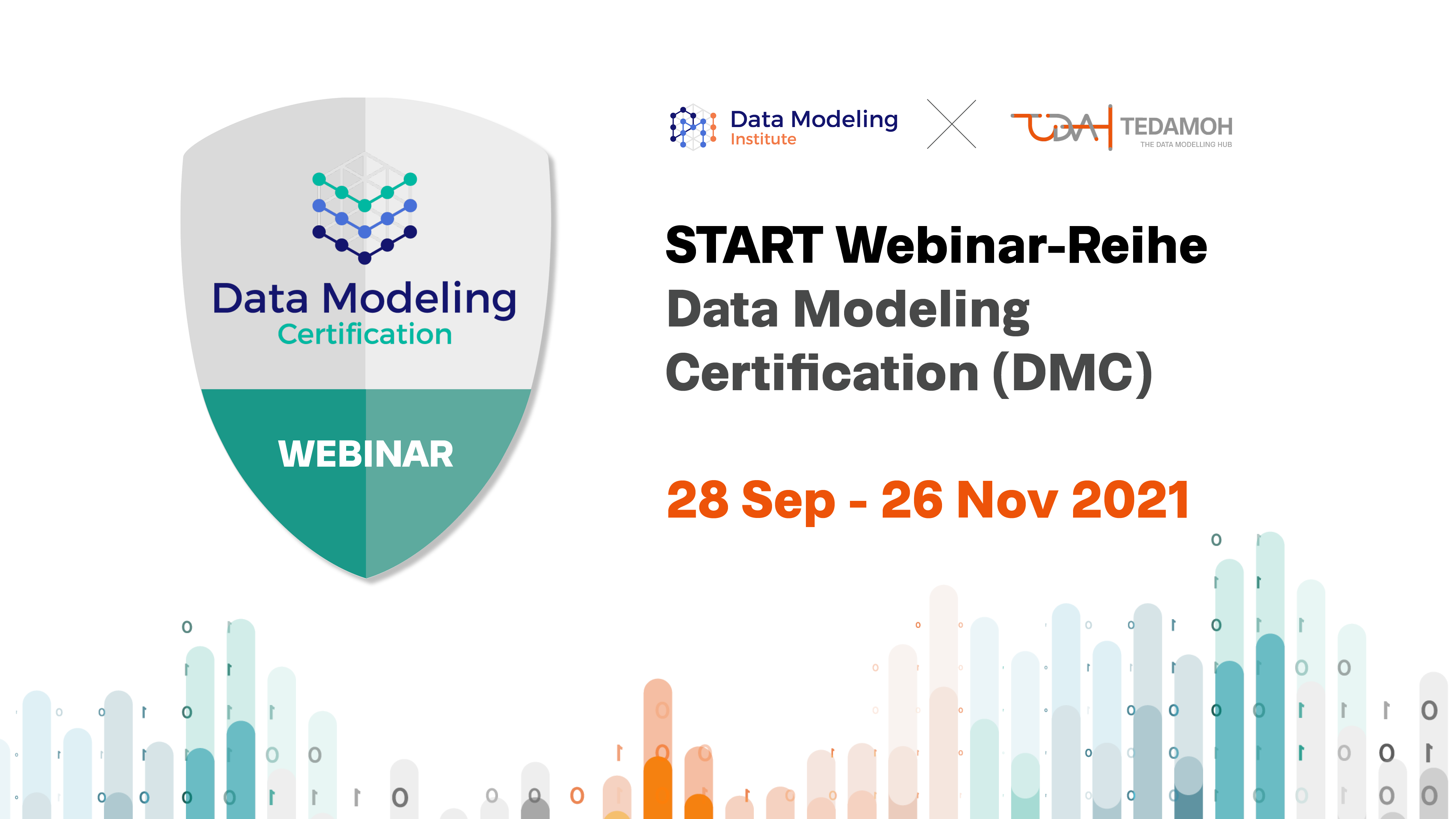 On September 28, 2021, the next webinar series will start in preparation for the Data Modeling Certification (DMC) in fall 2021. The DMC is a recognized certification of the Data Modeling Institute (DMI) and has a high relevance for all who create or design data models in the industry.
TEDAMOH is the first and so far only European provider offering webinars and certification in German!
Currently I am the first data modeler in Europe certified by the Data Modeling Institute (DMI). It is a matter of my heart that it does not stay that way. Like any important exam, the DMC is not a no-brainer, so it takes specific preparation to successfully complete the DMC. That is why we have designed our webinar series with this very purpose in mind, offering intensive knowledge transfer on all the data modeling building blocks that are relevant for certification. We hope for many interested participants to further strengthen the community! - Dirk, Founder TEDAMOH
The field of data modeling is very large. Often you only perceive the part where you are currently busy and lose the architectural thinking. The webinar prepares you well and with humor for the certification questions. - Teilnehmer
Read more
For all those who want to inform themselves about the topics in advance, we can only recommend, among others, the following professional literature. The books are of course also an optimal support as a supplement to the webinar series and preparation for the certification.
Data Modeling Made Simple
Data Model Scorecard
DMBOK2
For those interested, modelers and all who are working on becoming one - click here to book the webinars. We are looking forward to your participation!
Quick tip: If you book all 11 webinars (DMC 00 to DMC 10) as well as the certification, you can save more than 10% in the package price compared to the individual price.
SAVE THE DATE
Data Modeling Zone Europe November 18 - 19, 2021 with Dirk as speaker on Bitemporal Data - By the way: For all DMZ participants the participation in the Data Modeling Certification is included in the ticket price!